OMFG! If ya'll couldn't tell by the voice post, it WAS AWESOME! I'm uploading the Gym Class Heroes and Fall Out Boy vids to my youtube account right now, but it's taking a while. And I uploaded all the pics to photobucket so I'm going to try to avoid pic and video spamming everyone to death like I want to. I'm just going to show off a few of my favorites. This is currently the wallpaper on my computer:




And this has got to be my favorite video:



If ya'll want to see the pics the link to the photobucket album is *HERE* and once the videos are done uploading (hopefully I'll have it all finished by tomorrow) they can be found *HERE*

The House of Shock walk-through SUCKED. Well, it was House of Shock and I hate haunted houses, so does Mindy. The guy tried to pull me upstage to have something to do with putting an electric drill in his nose. I refused. I'm just not that cool. They put on a show before you walk through (yeppers, this is a link to the website) and it was apart of that. We took pics with Andy, Pete, and Joe (they were in that order) but there was no Patrick. Me and Mindy mourned. As soon as we get the pic from the radio station ya'll see it here. Siriusly though, Joe is the size of my pinkie. Really.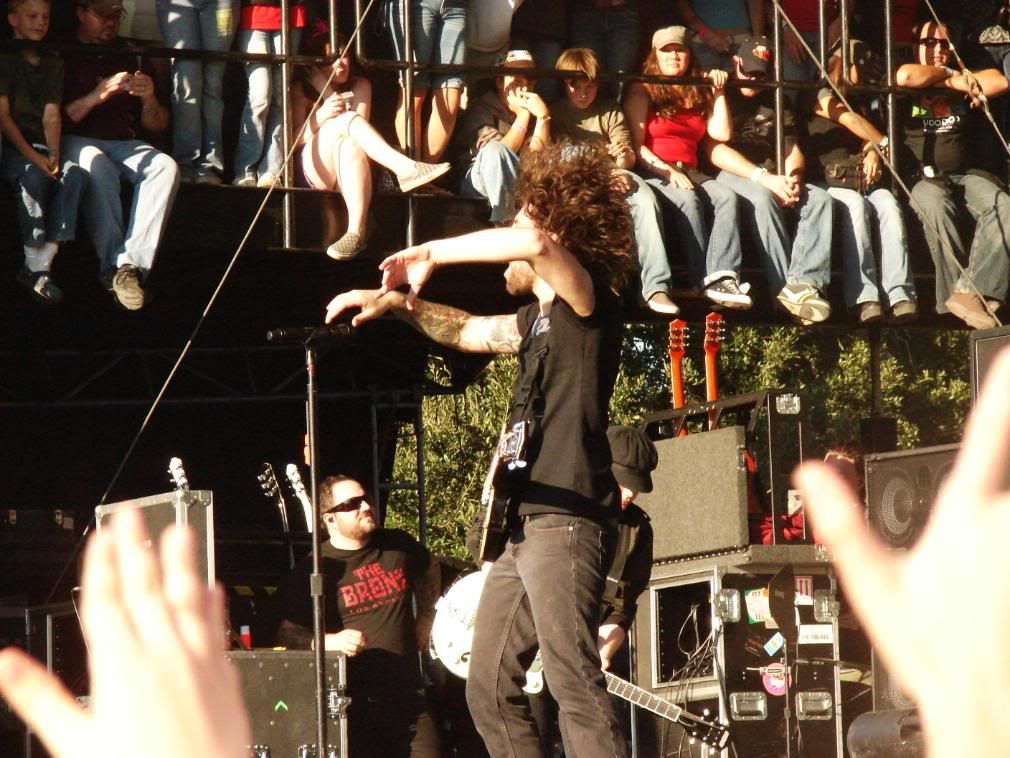 Um, I think that's it. Some (mostly FOB) of the videos are really shaky but there's nothing you can do when people are crowd surfing and falling on you. The video for "Thriller" is mostly just that. After a while I gave up and focused on trying to get how crazy it got. So, if you want to see that check out that video.

Also, I finally got another memory stick so now I have another one of those nifty sleeve thingies! That means, poor ya'll, pictures. I'm going to upload some of the ones from Chicago (mainly just one of me, Trevor and Erik that came out really good) and some other random stuff that's been sitting on my other memory stick for FOREVER.

Also, on the "Eugenie is not having a good mental time" front.... I wrote tonight I think that's one of the things I miss. I haven't written recently. And I called Erik just to tell him how angry I am at him for lying to me and how I don't believe anything that comes out of his mouth and he needs to fix it because I don't like thinking he's not worth me even associating with. I felt better after that. This is going to sound really bad, and it probably is, but the piercing seems to settle my mind. But, then again, I am the Queen of Stupid when it comes to piercing and tatts to getting my head clear.

ETA: I almost forgot! During their last song, Saturday, (do they always end with that? they have at all three shows I've been to) girls started pitching their bras and knickers at Patrick. I about DIED laughing :D