Another recipe!


2 lb bag of black beans, soaked and drained
2 tsp season all
2 tsp chipotle pepper seasoning
2 or 3 large tomatoes chopped, depending on if you love tomatoes
1 oz can of corn, drained
4 cups of hot water (for soup), 3 cups for just dip
cilantro is optional but awesome

Makes four 1-cup servings

If you've never soaked and drained beans before this is how you do it: Rinse beans then in large pot combine beans with enough hot water to cover them about two inches. Bring to quick boil letting boil for 2-5 minutes. I usually let it go for five. Then cover, remove from heat, and let sit for an hour before draining all water.

Now for the dip. Thing about the "optional soup" is that if you use slightly more water you end up with 10oz of a thick bean liquid that would make an AWESOME soup base (I'm going to come up with a recipe for that this weekend). If you want to do that, use four cups. If you just want the dip use three cups of water instead.

In same pot combine beans with desired water amount. Bring to boil then reduce to a smooth simmer. Add chipotle pepper and season all, cover but with lid tilted so steam seeps out, for about 2 hours stirring every 30 minutes or so. When nearing the finishing mark you should chop up the tomatoes and drain whatever extra liquid comes from this.

When beans are finished take your stirring spoon and smash a good bit of the beans against the bottom of the pot until you get whatever consistency you like. After you are done with this is when you add the corn and tomatoes, bringing to a medium heat, stirring for a while. Once it comes to a slight simmer again it's time to drain the liquid if you chose the soup option. I used a stirring spoon w/ holes in it and drain, pouring the liquid into a glass container while it cools, like this:






Continue to drain while it cooks. If you didn't decided to have the left over for soup still drain some liquid out until it's the consistency you want if you don't like your dip a little runny. When finished remove from heat and let cool. If you want to add cilantro do so after it cools, stirring the leaves completely in. Serve with chips.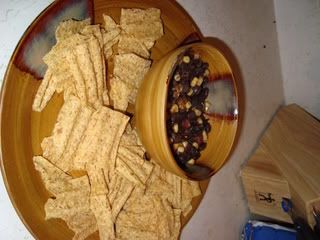 I know this would be a really good side dish sans being a dip but I just really like dips. When I make the soup I'll update too.