the_tainted and I took the kid to Audubon's Insectarium today and it was BEAUTIFUL! We both took a lot of pics until I ran out of battery and she ran out of memory stick.

THERE IS A ROOM WHERE BUTTERFLIES COME UP AND LAND ON YOU. It was so cool!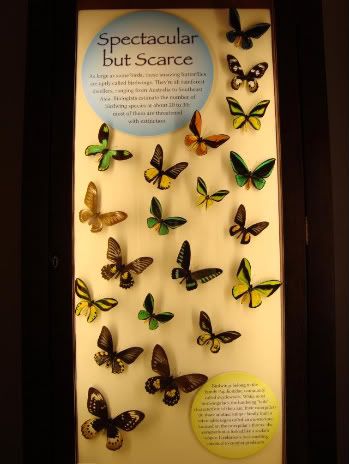 (click pic for album)

There were roaches from all places, beatles, and so much! The kid had a blast, there was even a six minute movie that had things that moved in the chair and smells and it was so awesome!

Pause for this- Erik just called to ask if I was seeing someone 'cause I was "distant" when he called me earlier. This lead to a 17 minute conversation on all kinds of things and me telling him my dating life is none of his business and if, and only if, I'm in something serious will he know about it. Then he says, "Can I go now?" and me being me I had to point out that it was him that called me, not the other way around. He never fails to exhasberate me, and I know he aims to. Grrrrrrrrrrrr.

On a happy note
the_tainted and I bought bugs to hang from out rear view mirrors. And there is officially a club that only consists of us two members 'cause of this. Jealous? Meet Brendon (yeah, PatD was on the radio, I know) and Fred.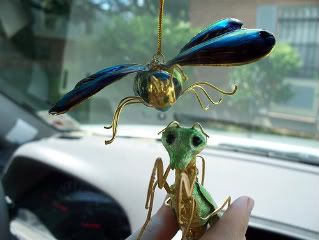 And like my icon? It's made of bugs. I need to go back with a full battery.

Night!