Remember how this year was the worst year of my life to date until Sucktember rolled around and, for some reason, it didn't suck this year. It began the awesome! I got the job at Lush, had free seventh row Adam Lambert tickets, saw Michael Buble front row floor, Muse, Weezer, Ok Go!, 2AM Club, Mike Posner, stopped loving Erik, My Chemical Romance is coming out with a new album, and I wrote fic.

While all that is awesome it kinda doesn't compete with tonight. Want to know what happened tonight.

I FUCKING MET NEIL GAIMAN AND HE HUGGED ME!!!!!!!!!!!!

Neil has been in town all week with Amanda Palmer (of the Dresden Dolls and his fiance, for ya'll who don't know) because it was his 50th birthday a few days ago. He's said on twitter quite a few times that he would be at the show tonight. Me and Melanie had our tickets for a few weeks before we even knew he'd be in town and the show sold out, so thank God we did. We got there super early and ended up with standing room right by the stage and the two guys right behind us were friends of Neil's and had been there all week with him. They were extremely nice and Mel and I spent the entire time before Why Are We Building Such A Big Ship? talking to them. One of the guys was a former massage therapist (twenty or so years ago) so we had a lot to discus with him. And they went on about how they loved our city and the people were so nice and how they didn't want to leave.

Anyway, Neil was there and I saw him several times before I got up the balls to approach him. I brought Fragile Things with me for him to sign and, you know what....


HE DID!!!!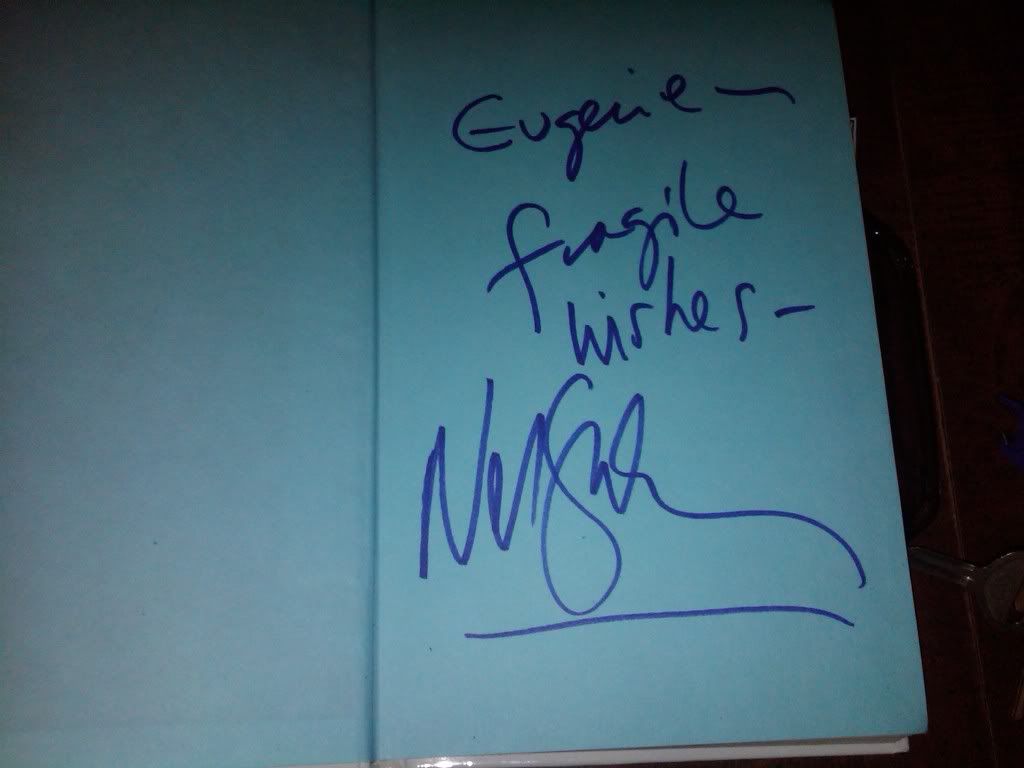 I asked him if he remembered a month ago a girl tweeted she saw him in the airport in Abq and he wished her happy birthday and he smiled really big and said, "Yes, yes I do!" I told him that was the amazing
jessicakmalfoy and that she's been kicking herself for not getting him to sign anything and would he pllllllease sign my book because I thought he was amazing and, yes, I gushed about how much meeting him meant to me and what his writing had done for my life AND THEN HE OPENS HIS ARMS AND SAYS, "AW COME HERE" AND NEIL FUCKING GAIMAN GAVE ME A FULL BODY HUG!!!!!!!!!!!

I'm repeating that:

AND THEN HE OPENS HIS ARMS AND SAYS, "AW COME HERE" AND NEIL FUCKING GAIMAN GAVE ME A FULL BODY HUG!!!!!!!!!!!

Ok, onward with my night. Next was Jason Webley and he blew me away. Just a man up there with his accordion and personality. He could have played for hours and I would have loved every minute of it.

But, you know, the Dresden Dolls! I've been waiting to see this band for years. Years. Not only were they everything I could have wanted but there were everything I had no clue they would be. To top it all off when they come back for the encore (right before the final song me and Melanie moved upstairs to get away from the bass in the speakers) Amanda Palmer comes upstairs and straddles the railing on the balcony to sing Mien Herr from Cabaret. Fyi about me, three songs from the Cabaret soundtrack are on my iTunes top 20 played list. Mien Herr is one of them. We start geeking the fuck out and seem to be the only ones who knew all the words which, of course, we were singing like dorky idiots.

Tomorrow (later today) I get to dress all in pink, put on ridiculous make up, and go to work at Lush for the Sweet Sale.